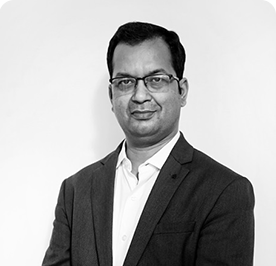 Vinod Pandey
Deputy Business Head
Vinod Pandey is a Deputy Business Head at Arohan.
He has over 19 years of diverse experience in the fields of Livelihood Development, Life Insurance and Microfinance industry. Vinod is responsible for managing business of Rajasthan, Madhya Pradesh, Chhattisgarh, Uttar Pradesh/Uttarakhand and West Bengal. He is also responsible for increasing the footprint of Arohan in new geographies by playing a crucial role in expansion. Earlier, Vinod was heading the verticals of Central Operations and Alliances before taking over the responsibilities of a Deputy Business Head. He has also been responsible for creating significant portfolios for Arohan in the states of Bihar and Jharkhand, and has worked in almost all eastern states of India.
Prior to joining Arohan, Vinod has worked with organisations like L&T Finance, Kotak, Max New York Life and IDE (India). He holds a Post Graduate Diploma in Rural Development from Xavier Institute of Social Services, Ranchi and an Advance Diploma in Business Management programme from ICFAI University.