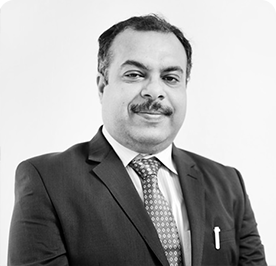 Abin Mukhopadhyay
Head of Internal Audit
Abin Mukhopadhyay the Senior Vice President and Head of Internal Audit at Arohan and has been associated with
Arohan since July 1, 2015.
He is responsible for giving assurance on the internal control arrangements and promoting good corporate governance in Arohan. He is a qualified chartered accountant and a member of the Institute of Chartered Accountants of India. He is also a chartered management accountant (admitted as an associate of the Chartered Institute of Management Accountants), a certified information systems auditor (as certified by the Information Systems Audit and Control Association), a certified fraud examiner (as certified by the Association of Certified Fraud Examiners) and an associate of the Insurance Institute of India. He has over 21 years of experience in audit, accounting and management. Prior to joining Arohan, he has worked with Eveready Industries India Limited, ITC Limited, Colgate-Palmolive (India) Limited, Hindustan Motors Limited and Gumasol Rubber-Tec GmbH.