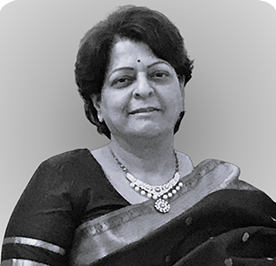 Ms. Rupa Rajul Vora
Nominee Director
Ms. Rupa Vora was the Group Director & CFO - IDFC Alternatives for more than a decade and earlier, CFO of the Indian operations of Antwerp Diamond Bank N.V. and KBC Bank N.V. She was also associated with Calyon Bank and Oman International Bank S.A.O.G. Before joining the corporate world, she ran an independent practice as a Chartered Accountant for almost a decade.
She has been a member of the Jury for the CFO 100 Awards by the CFO Institute and has been conferred with the "Women Leadership Excellence Award" at the IPE - BFSI Awards 2013 by the Institute of Public Enterprise.
Ms. Vora has featured among India's 10 most influential women in finance by Rediff.com in 2012. Ms. Vora also featured among India's Top Women in Finance 2023 by Equalifi and presented by Valuefy. An independent director on corporate boards, she is a Fellow Member of the Institute of Directors and a lifetime member of the Independent Director's Data Bank of the Indian Institute of Corporate Affairs. Ms. Vora is a member of CII's National Committee on Financial Reporting 2020-2021 to 2022-2023 and is also involved with The Art of Living.