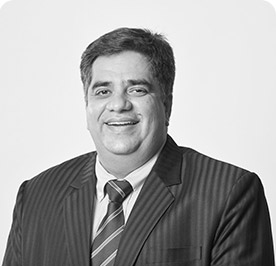 Vishal Wadhwa
Head of Business
Vishal Wadhwa is the Head of Business and has been associated with the Company since August 2022.
He is a Chartered Accountant and a graduate of Harvard Business School's Senior Executive Leadership Program. Vishal joined Arohan Financial Services in August 2022 from Fullerton India Credit Co. Ltd. where he was the Head of Rural Business. Overall, he has more than 25 years of experience in banking and financial services.
In Fullerton, he strategized and executed a multi-pronged approach to business, leading and driving diversification and digitization of business products and processes.
Prior to joining Fullerton, he worked for Tata Consultancy Services, Citibank N.A. and Citigroup as Head of Retail Consumer Operations. He has worked across Business, Risk, Collections, Operations, Service & Credit across varied roles, leading the functions of Business and Collections. He has led large teams with a proven track record of growing customer relationships and building business distribution.